AdSphere™ is now faster than ever.  
You may have noticed faster login times from our last release which has been expanded to include quicker load times for the HOME tab as well as for default brand and advertiser rankings.
Checkout our new DPi flag…
DPi signals allow DRMetrix to segment airings between two types of national cable ad breaks.   Networks have been flagged which have local ad breaks and where DRMetrix receives DPi signaling.  The DPi flag graphic has also been added to the downloadable Network List in AdSphere™.  To learn more about DPi signaling, please click here.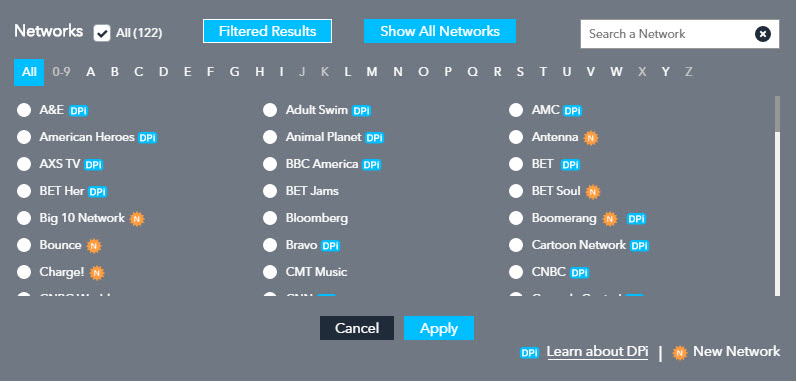 New User Guide
The AdSphere™ user guide has been updated.  Given all the new features we've released over the past few months, the user guide has doubled in size.  Please grab a copy to go over some of the new features such as tracking & alerts, network log view, and many others.  Click the USER GUIDE link at the top right on the HOME tab of AdSphere™ to download your copy today!   For those of you interested in isolating Per Inquiry schedules, you'll find this section has been updated to take advantage of our new DPi flags!

Enhancements to Network Log View
If you know the date you wish to research, now you can quickly choose any media day making navigation easier and faster!  The separate media year, week, and day drop downs are now optional to use.  As a helpful addition, you can now see the date when AdSphere™ began monitoring any chosen network.  In the example below, you can see that A&E was added on 08/04/2014 to make you aware that airings prior to this date are not available in the network log view.

In addition to the new calendar date picker, you can now choose between Filtered Results or All airings view (see below).  This is helpful in situations where you may wish to bring both short form and 28.5 minute airings into a single view.  As another example, let's say you have set brand classification filter to 300 second spots before navigating to network log view.  The system would normally only show you 300 second airings but now  you can click to see ALL airings which will ignore your filter settings and bring 100% of airings captured by AdSphere™ into the view.  In the all view you will see all airings for the brand classifications: Short Form Products, Lead Generation, Brand/DR, and 28.5 minute.  Now you can filter the results in the  network log view results using any of the AdSphere™ filters with the option to remove the filters and show all airings without having to change your filter settings and/or leave the network log view.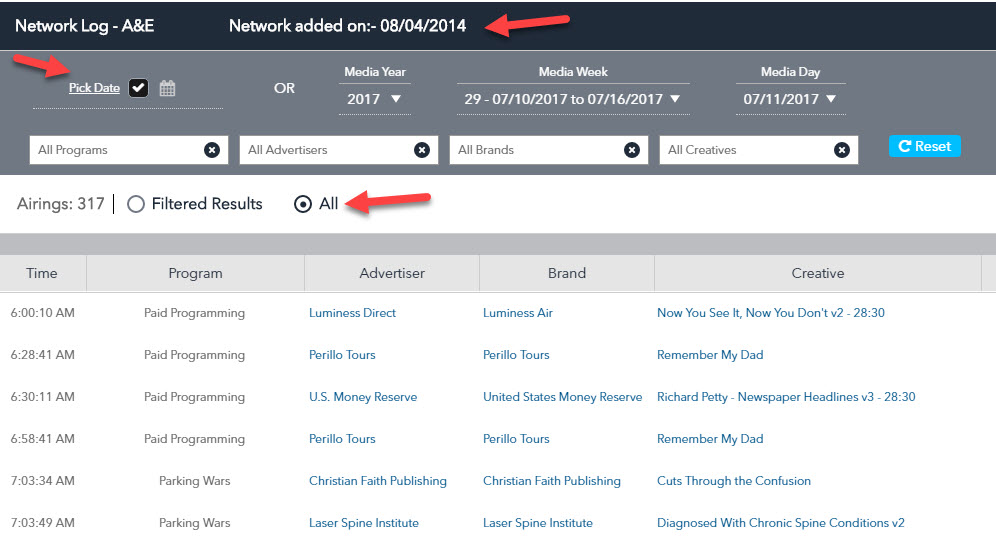 Airing Analysis Enhancements
We really appreciate the input from our wonderful customers.  Because of your suggestions, we've added a new Dayparts tab, which maps the airings for any creative or brand across 6 standardized dayparts.   When looking at data for a singular network, Adsphere™ uses that network's DR dayparts.  However, because DR dayparts are not universal, when visualizing data across all networks the best we can do is to create standardized dayparts in addition to our existing Hour of Day view.  We're looking for feedback and would love to have your thoughts and suggestions for further refinements.

At the bottom of the page, you'll find some new columns breaking out national airing and local airing counts for each network.  Additionally, a new Excel report is available that will allow you to export all of the summary network and nested creative details for any brand or creative including clickable play links.

Tab 1 "Networks" will display the summary network counts, based on your filter settings, for any brand/creative and time frame.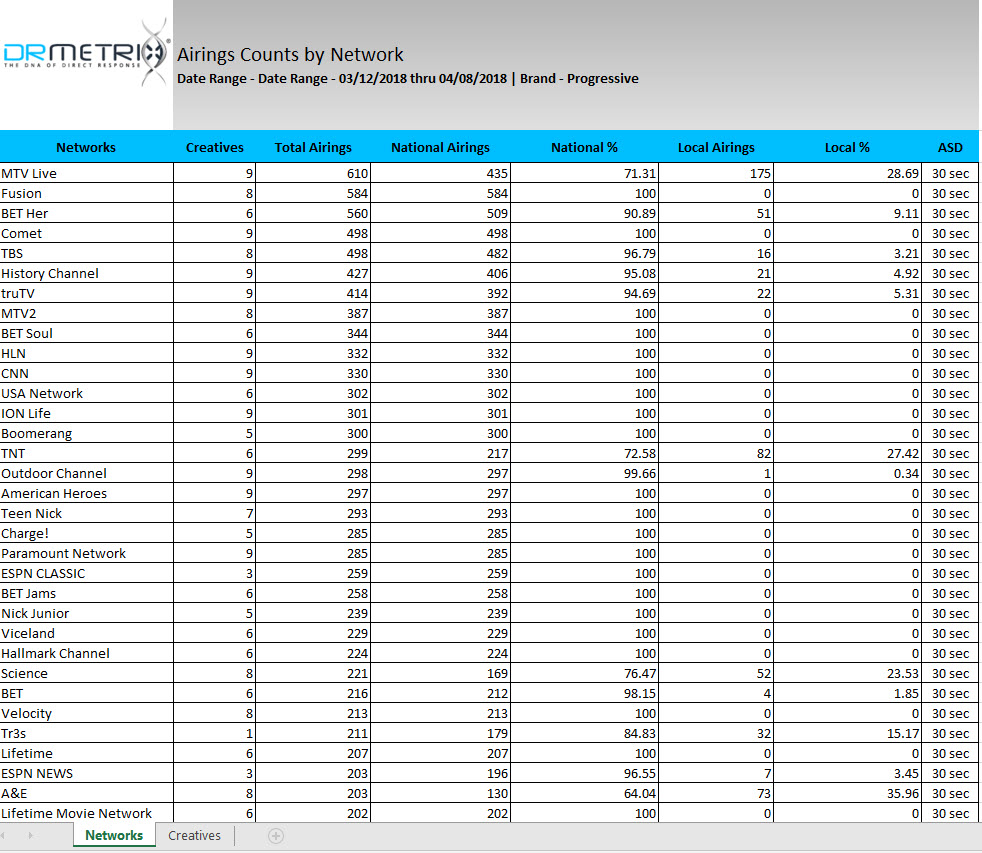 Tab 2 – "Creatives" will provide all nested creative summary detail by network including clickable play buttons which are good for 30 days.   If the specific creative has aired on the network within the last 10 days, the play button will play back a sample airing from that network.  Otherwise, the system will revert to playing a recent airing from another network and/or play an older version of the ad known as the "master' which was captured when AdSphere™ first registered the creative.