Just in time for the holidays, we have a new AdSphere release!
Heading into 2018, DRMetrix is building out contact details for advertisers!  With this new release, you will begin to notice contact details on some advertiser pages.  In the example, below, you'll find contact information and social media links for SharkNinja Operating Company as well as key contacts at the company.  If you click the arrow button shown on the far right of the picture below, you can toggle through different company contacts.

We are actively working to research all of the advertisers in the AdSphere database to provide similar detail over time.  This project will take us a number of months to complete and is sure to keep us busy in 2018!  At this time, we have researched and created profiles for over 180 advertisers and 459 contacts.  You can expect hundreds more to be completed in the coming weeks.  We will soon be adding features so that our users can even give us feedback on data.   If we are unable to determine who the advertiser is for any creative, we will ask our AdSphere user community for assistance.  We appreciate everyone's patience and participation as we build out this important new feature!  We are excited to be the first company to build out a comprehensive database for the industry!
Tracking & Alerts
You can now schedule both daily and weekly email reports.  Now you don't have to choose.  You can receive both a daily and a weekly synopsis of new brands and/or creatives!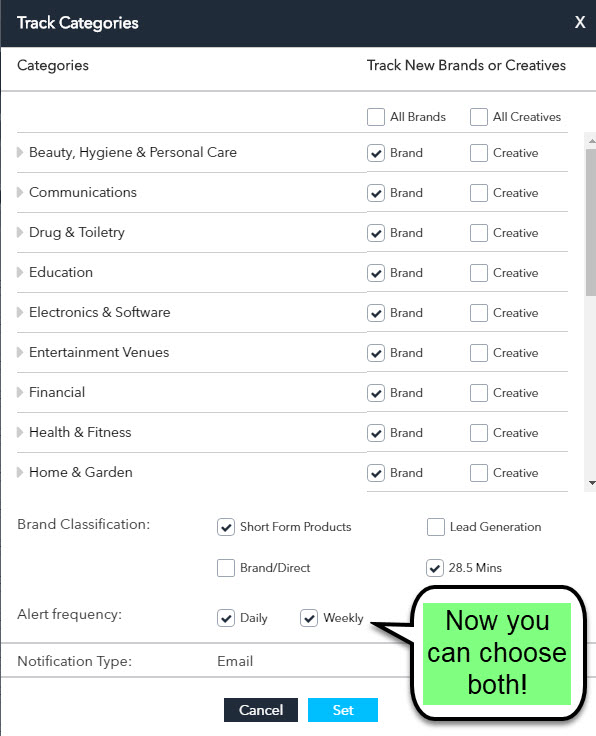 Multi-Brand Classification 
Now you can run reports for any combination of short form brand classifications.  Want to run a report to rank all Lead Generation and Brand/DR campaigns?  No problem!  Try it out today.

We hope everyone enjoys the rest of the holidays and has an amazing New Year's celebration!