Introducing – AdSphere's Network Log View
A new build of AdSphere™ was released today with a new feature we're calling the Network Log View.
Now you can analyze all of the DR creatives running on a network for any broadcast day.  You can view, refine, highlight, and create a variety of network/day specific excel outputs.  The network log view will report all short form or long form airings depending on whether you have 'Short' or 'Long Form' chosen as the Brand Classification.
To begin, start at the HOME TAB, choose short or long form brand classification and click apply.  Use the network drop down to choose your target network and then look for the new "Network Log View" button in blue.  Click it to open up the network log view as shown below.
Click the Current Week drop down where you can choose from current week, last week, or any historical media year.  Then, use the media week selector to choose your target media week and finally the day selector to narrow in on a specific broadcast day.  As you can see below, the system will list all DR airings in chronological order starting at 6AM through 5:59:59AM the next day.  (We figured our users would want to see the network log view in broadcast day.)
You can refine the view by filtering the airings by program name, advertiser, brand, or by creative name.  You can also highlight all matching airings in the view by advertiser, brand, creative, or for a specific creative/duration.   One of the use cases for the network log view is to analyze those DR creatives which have run in close proximity to your highlighted airings.  As you'll see in the video below, this is very easy to do.  Additionally, the network log view provides access to airing level videos and airing level thumbnail images similar to the existing airing detail excel outputs!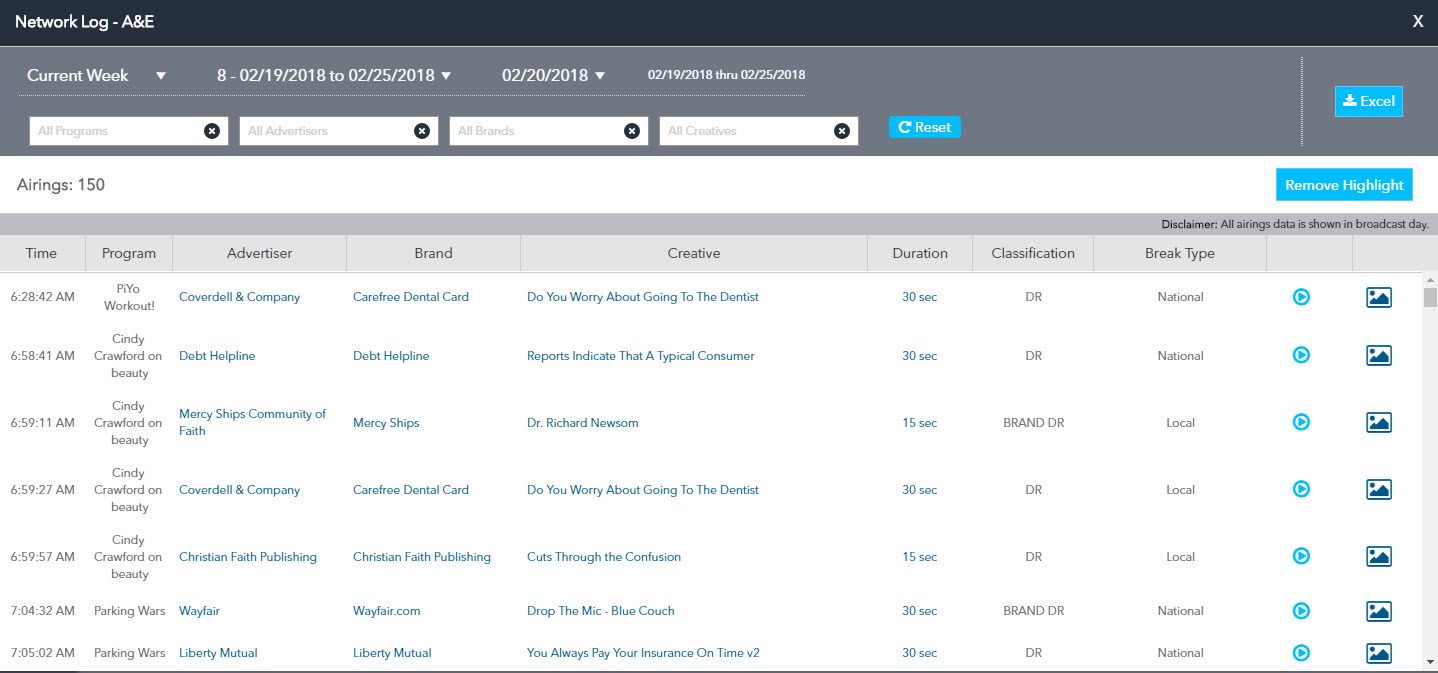 Video #12 of our Youtube Training series will show you how to use the new Network Log View feature.   We look forward to your feedback!