At the request of our valued clients, Adult Swim and Nick-at-Night have been segmented as their own networks in Adsphere.
As part of today's new release, you may be asked to reauthenticate with Authy.   Also, if you have any issues, please go to the login page for AdSphere and click the SHIFT key and the REFRESH / RELOAD button on your browser to insure you have the latest version.
When you first login, you'll notice the default ranking report for last week loads very quickly.  We've done some technical things to speed up login so you can access other features of the system without having to wait for the default report to load.  Also, you'll notice the network drop down loads faster allowing you to access the new network log feature in record time.  To assist our users in accessing inactive and non-active networks, we've added a new ALL NETWORKS button in blue.  Active networks are those that have activity for the period and filters chosen.  So if one filters for 300s (5 min) creative for last week, the default list under SHOW ACTIVE NETWORKS will only display those networks that actively ran 5 min creative.  If you wish to access the network log view for a network that isn't actively airing 5 min. creative, it's very easy with the new SHOW ALL NETWORKS button.  You'll find all networks in this new view including those that have gone offline but still have historical airings data which can then be analyzed with AdSphere's Network Log View!   If you haven't explored the Network Log View, please watch the help video under the what's new sticky note at the top of AdSphere.  This new release includes a host of minor performance tweaks and enhancements.    We've spent some time doing quality checks with the new build and we think everything is in proper working order but please do let us know if you discover any issues with the new build!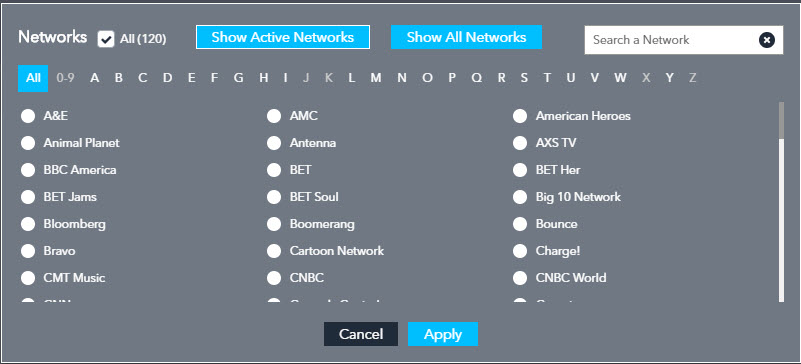 A software bug was discovered today which has resulted in the delayed reporting of some new commercials in certain situations.  The bug has impacted only new commercials that were first detected on any of the dual broadcast feeds that DRMetrix uses for monitoring digital broadcast networks.   No data has been lost and the issue appears to be limited to only new commercials that were first detected on a broadcast diginet.  New commercials meeting these specific conditions were not appearing in DRMetrix's registration systems per norm.  That means our researchers were unaware that these new commercials existed.  When the bug was discovered today and resolved, all of the affected new commercials begin appearing in our registration system and our researchers are working as quickly as possible to get these creatives into AdSphere.
Those of you using AdSphere tracking & alerts will see some of these new commercials and brands appearing in your reporting throughout the next week.  Some may show a start date going back a few weeks.  Apparently, this bug has been around for 4-5 weeks.  Our technical team is going to add some additional safeguards to try and insure this doesn't happen again.  We anticipate more volume coming through our tracking & alert system over the course of the next few days.
We greatly apologize for this issue.