Call it what you will!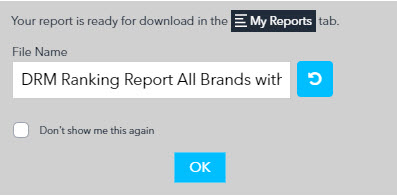 If you've ever wanted to customize, or change, the name of any file or saved FILTER inside of AdSphere, now you can!

Before we get started, please log into AdSphere™ and go to the MY REPORTS tab.  On the upper right side of the page, please make sure that Excel Popup is Enabled.
Assuming your Excel Popups are enabled, whenever you click to create an Excel output anywhere in AdSphere a window will popup as shown above.  You can click into the file name field and customize the name of the Excel file that will be created.  If you change your mind, you can click the refresh icon in blue and the system will reset the name of the file back to the system default.  Click OK to proceed.  When you go to the My Reports tab to retrieve your report, it will be named as you specified.  This is great if you wish to name reports on the fly as you create them throughout the system.
Rename Reports & Filters
You can also click on any file name inside of My Reports or My Filters and rename them at any time.


New Way to Share Videos!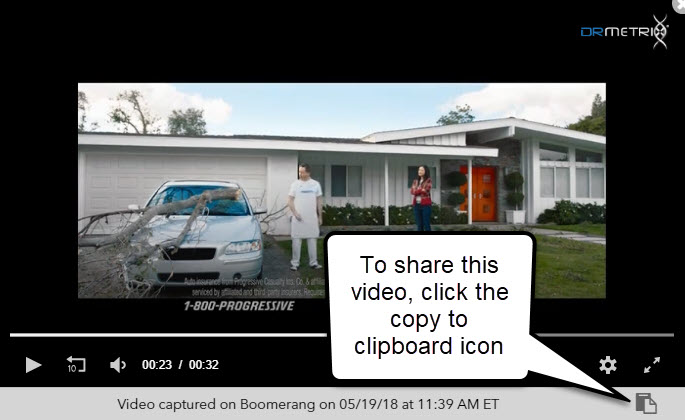 DRMetrix has made it easy to share hundreds of videos in seconds with its multi-brand, advertiser, and brand level creative EXCEL exports.  But what if you only want to share one video?  In this build, we've added a COPY TO CLIPBOARD icon which you can see in the picture above.  Just click to play any video and then click this icon at the bottom right of the video player.   Once the video link is copied to your computer's clipboard, you can PASTE it into any document, email, etc.  Now you can share any video in seconds!
To paste the video link into a document or email:
MAC – Use the key combination COMMAND+V
PC – Use the key combination CTRL+V
Videos Now work with IOS / iPhones!
Our development team has resolved the issues with iphones so Adsphere video links from Tracking & Alerts, Weekly Spend Index Rankings, and links from our new copy/paste feature can all be played back from IOS devices now.  Note:  Due to recent changes made by Google videos may playback with audio muted.  For now, you can click to enable sound but we are working on a fix which we'll be rolling out very soon.
Web Profiles
For various contacts on Advertiser pages, you will find a new "webprofile" logo as shown below.  These will generally link to a web page where profile information on the contact exists.

More DPI information
Following on the lead of our last build, we have added DPI graphics to networks on our Airing Detail pages in both the network drop down and in the network list at the bottom of the page.  Many of our users leverage DPI to help isolate Per Inquiry schedules.  Please see the section in our AdSphere User Guide "Isolating Per Inquiry Schedules" for more information.  To learn more about DPI, please click here.